Self-Serve Dog Wash
Providing your dog a bath in your home means clogged drains, dirty bathtubs, and an aching back. At woofmeow Family Pet Center, we eliminate the mess and stress with our self-service dog wash in Dover, NH. Our elevated bathtubs accommodate dogs as small as a Chihuahua, and as big as a Rottweiler. Call (603) 842-4466 with any concerns about do-it-yourself pet wash add-ons such as shampoos, conditioners, and the FURminator Deshedding treatment. Our friendly, knowledgeable team are more than happy to address any questions you may have.
Woof Wash: The woof wash is now reopened at both store locations. We have had to make a few adjustments to keep customers safe with social distancing and also allowing for additional cleanings between uses. Note: Only one individual and their dog per hour will be allowed in to use the facilities. We ask that all bookings be by appointment only. This is a change from our previous system of operation.
We ask that everyone respect the times for use. If there is a time booked and that individual is more than ten minutes late their time will be forfeited. We need this extra time to ensure we can adequately prepare the area for the next customer.
Secondly, we ask for you to call ahead and book your appointment with our team member by phone: Derry (603.965.3218) or Dover (603.842.4466). They will share availability at that time. Start time is at the top of each hour, from 10am for the first slot; to 6pm for the last slot Monday through Saturday. Sunday times will start at 10am and the final slot will be at 4pm. Your time to utilize the woof wash will be 30 minutes. This is double our normal time and will allow for most everyone to complete their business. The charge for 30 minutes of use will be $15. This will allow us to cover the extra labor and supplies that we will require to disinfect the areas after each use.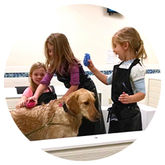 Self-Service Dog Wash
Our self-service dog wash permits you to stand in comfort at the dog washing station, and we provide all the things needed to give your dog a professional wash.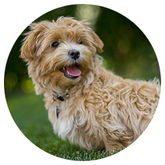 Dog Wash & Grooming
No scheduled time needed. The last bath is 30-minutes prior to closing time. We are open today until 6:00 PM.
WHAT Dover CUSTOMERS ARE SAYING
See what customers near Dover have to say about us then be sure to stop by and see for yourself!

Come visit our pet supply store in Dover, NH specializing in professional pet grooming, & quality food, treats, and supplies for cats and dogs.