Fortified with Vitamins Minerals & Electrolytes for Wild Bird Health & Well-Being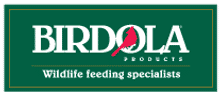 woofmeow is proud to carry Birdola in Derry, New Hampshire. Our flagship product, this is a two-pound cake that is held together with a natural binder to stay together in all kinds of weather. Fortified with vitamins, minerals, and electrolytes for the overall health and well-being of wild birds, this cake is made with the premium seeds birds prefer.
Products
Black Gold Finch Bar
Bungee/Big Ol' KOB Combo
Woodpecker Bar
Beetle Mania Cake
Birdola Plus Junior Cake
Birdola Plus Large Seed Cake
Deck & Patio Cake
Safflower Cake
Squirola Cake
Sunflower Cake
Trail Mix Junior Seed Cake
Trail Mix Large Seed Cake
Woodpecker Junior Seed Cake
Woodpecker Large Seed Cake
Junior Cake Feeder
Large Cake Feeder
Stacker Stand Feeder
Beetle Stacker Cake
Cardinal Stacker Cake
Finch Stacker Cake
Multi-Bird Blend Stacker Cake
No-Waste Stacker Cake
Woodpecker Stacker Cake
High Energy Suet Cake
Orange Suet Cake
Peanut & Raisin Suet
Derry
Open Today from 9:00 AM - 8:00 PM
Dover
Open Today from 9:00 AM - 8:00 PM
Come visit our pet supply store in Derry, NH specializing in professional pet grooming, dog training & quality food, treats, and supplies for cats and dogs.